I can't stop thinking about Erdem's fall collection:

...those matching but not matching silky printed tops and bottoms and lovely bunhead hair!
So this morning I was looking at an old Elle, not because I wanted to but because I am too poor to buy a new one when I opened to the same dumb page of gift giving guide of items. This time I focused more on the combination between the Thakoon for Target dress and the flannel pajama pants: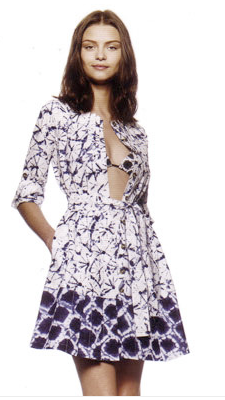 This is a budget answer to my little dilemma! Not to bring up my extreme love of track pants and sweatpants as highend, but they will be happy to have some silky, flannel and sheer buddies stacked on top. Buy pajama pants to match with a vintage printed dress or shirt in the same palette or why not even go sheer. Problem solved...now can I borrow 40 bucks to make that dream happen! Wow, new levels of poorness....what's under vintage shopping?...oh, yeah...stealing! ha.

sidenote: remember to buy either on the small side or XL side for the best impact...I was even thinking about silk pajama bottoms and adding elastic to the bottom.